FAQ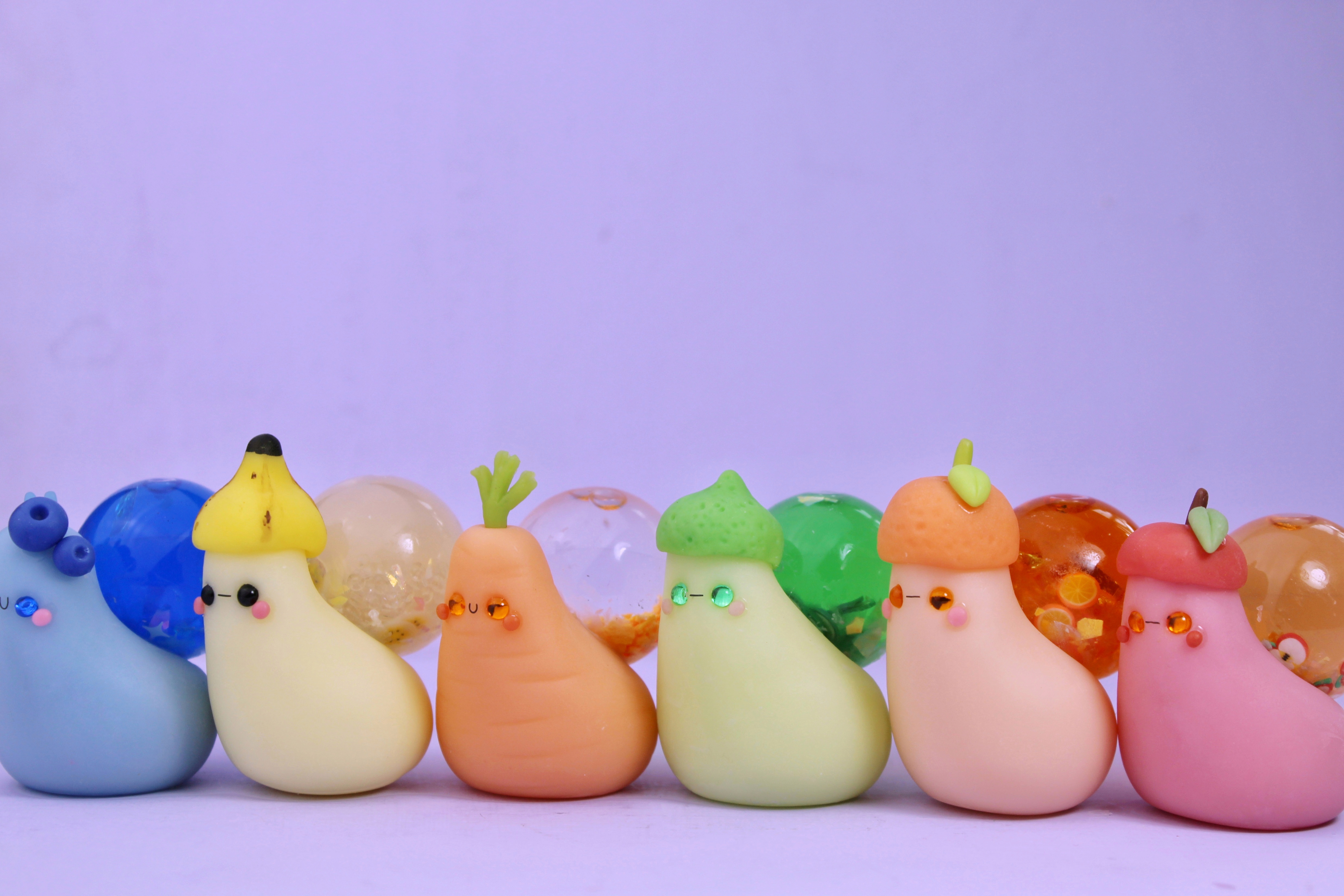 ---
How to buy?
The shop has monthly restocks, usually around the third Sunday of each month.
The shop is stocked now. And the next restock will be on October 22, 3PM EST! Please check my first highlight on Instagram to set up a reminder!

Scroll to the bottom of the page to subscribe to my newsletter and be notified for the next restock! There will also be a countdown on my Instagram stories.
---
How do pre-orders work?
Pre-orders are a perk for patrons, they get to choose first and reserve items before the restock. If you want to learn more about it just click here.
---
What sizes are available?
For now, available sizes are approximately as follows: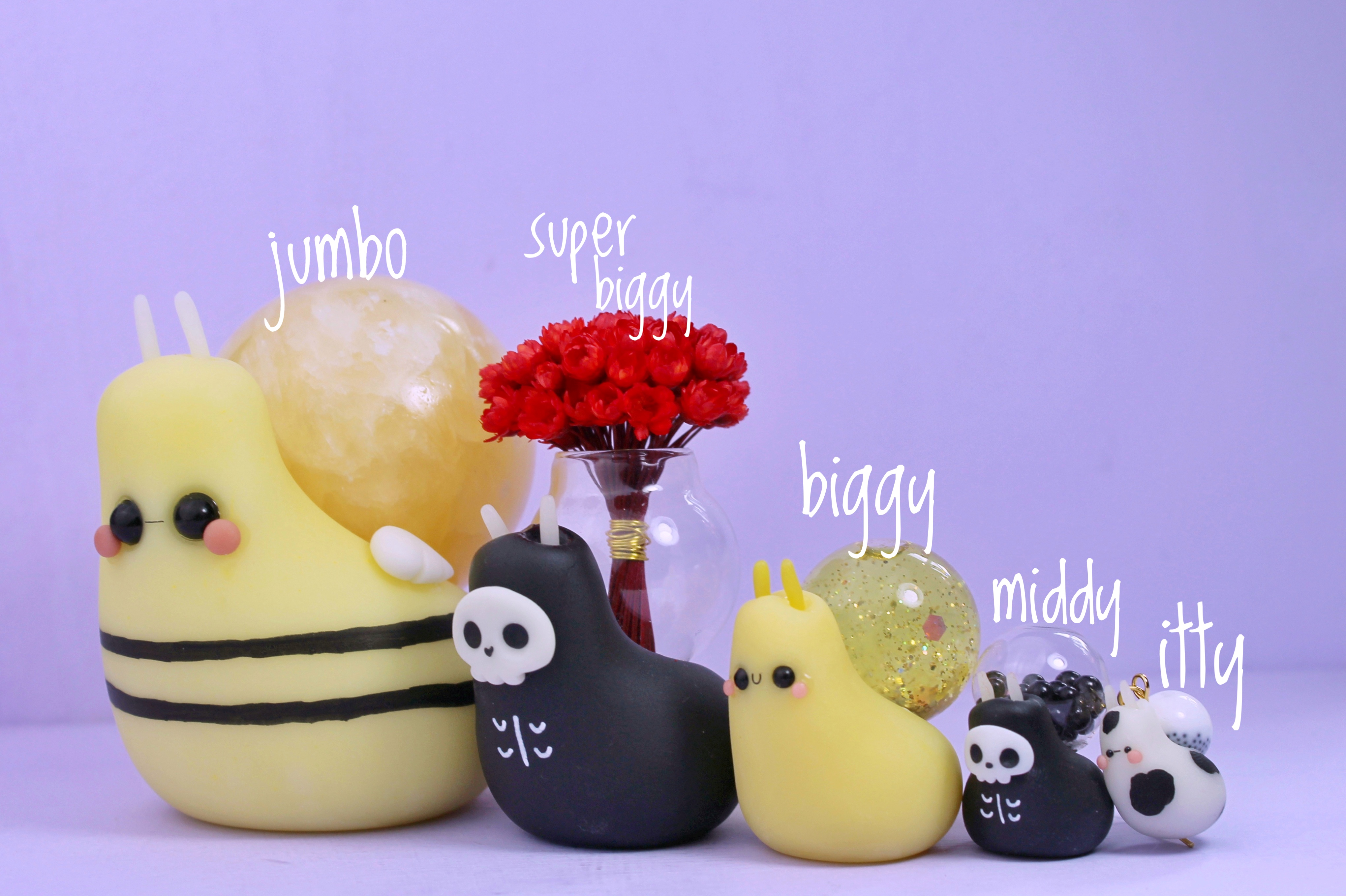 Itty snails size:
2 cm x 2 cm
(0.7 inch x 0.7 inch)
Weight: 4 grams 0.14oz
Biggy snails size:
3.5 cm x 3 cm
(1.3 inch x 1.1 inch)
Weight: 30 grams 1oz
Super Biggy snails size:
5 cm x 3cm
(1.9 inch x 1.1 inch)
Weight: 43 grams 1.5 oz

Jumbo snails size:
5.5 cm x 6.5 cm
(2.1 inch x 2.5 inch)
Weight: 180 grams 6.5 oz
*These are usually crystal snails so the measurements vary a lot.
---
How much do your pieces cost?
Each piece is unique so they all have different prices, depending on a lot of factors. Some of them include size, the time spent on the piece and materials used. Here's a rough estimate of prices for each size:
Itty Snail Globe: $30USD
Biggy Snail Globe: $40USD
Super Biggy Snail Globe: $45USD
Crystal Snails: from $60USD to $150USD depending on size and type of crystal
Other items: $30USD
---
Do you accept my currency?
Yes! I accept all currencies. The prices in the shop are in US dollars, but when you pay, it will be automatically converted to your currency.
If you want to know how much things cost in your currency, you can enter the numbers in this currency converter.
---
Payment Methods
At the moment I only accept payments through Paypal. (Stripe can be used in certain cases).
---
All about shipping:
I am based in Brazil and will ship anywhere Fedex can reach!
I ship all orders and pre-orders a week after the restock. Most orders are sent through Fedex and arrive within a week of me posting them. So, under normal circumstances, you can expect to meet your new tiny friend about 15 days after buying. But please keep in mind that international shipping is prone to delays.
Shipping costs start at $25 USD, depending on your country. Please check the Shop Policies page for more info.
I make no money from shipping, everything is going straight to the carrier. In fact, I cover a part of the shipping costs.
---
Can I order a customized piece from you?
I open custom orders for patrons twice a year (usually in July and December).
---
Can I copy your work?
Please do not make/sell reproductions of my work, or pieces heavily inspired by my ideas.
---
What about brazilians?
Para comprar na loja em reais é só entrar em contato comigo por DM no insta que consigo fazer o pagamento por PIX.
---

Still have a question?
Here's how you can contact me:
---